Thai Gastronomy
Thailand is known as the land of smiles, it never ceases to amaze visitors by it's hospitality, ancient culture, mild climate, beautiful beaches, beautiful landscapes and exceptional therapy sessions in numerous Spa's.
All of this means that Thailand is one of the most popular destinations on the planet.
It is useful to know aspects of Thai culture and society.
* The Thais prefer white skin to brown. Some women wear an umbrella to protect the skin and to continue with a pale tan.
* Smile and good mood is a cultural constant. If you are invited to go to the house of a Thai family you must must leave your shoes at the door.
* It is not well accepted to express affection or kissing in public.
* Thailand is a country full of contradictions. Two examples are gambling and sex. The game is against the law, however, the Thais love to play. Prostitution is also prohibited by law, but is widespread and tolerated in Thai society.
* Eat when you're hungry, not being rigid breaks for breakfast, lunch, dinner times. Dinner is the most abundant, although Breakfast is substantial, in which takes part chicken rice, pork, prawns with garlic, accompanied by a fried egg and pickled gherkins.
It is said that in Thailand, every meal is a fascinating and unforgettable experience. The Thai Kitchen was born from the joining of cultures like India or China, and the presence of some Western cuisines, but always based on solid principles of cooking from people who love nature, exalted with the harvest of the exotic ginger, or tropical colorful fruit .
The Thai cuisine is known for its balanced blend of flavors acid (vinegar, lime juice, tamarind), salty (soy sauce, fish sauce), sweet (sugar, fruits, sweet peppers), and spicy (pepper) supported in four pillars: the rice noodles, fruits and vegetables, spices, sauces and herbs.

Cookaround World! Curry verde di pollo: Ricette Tailandia | Cookaround
The cuisine is built around rice (kao gkin) which is not a simple accompaniment or trim, but the real star, depending hence the whole cooking structure. Meat, fish and vegetables, are minor ingredients that accompany meals in the five fundamental flavors: sweet, spicy, acidic, bitter and salty.
Here the sauces peppers, crab legs, garlic and spices have a key role in highlighting flavors, or in its smoothness, like those based on coconut milk.
As for drinks, the most common are the fruit juices: mango, coconut, sugarcane, guava or papaya.

Curiosities
In Thailand, forks are used as a support for pushing food. Usually, Thais eat with a spoon and rarely use hashi.






Le Six Senses Yao Noi
Surplombant la baie de Phang Nga, dans le sud de la Thaïlande, le Six Senses Yao Noi est un refuge idyllique. Très luxueux, vous débarquerez en hors-bord et aurez un majordome personnel ! A noter que l'hôtel respecte l'environnement en réduisant sa consommation d'énergie, en gérant de manière durable l'eau et en limitant la pollution sonore.
In Internaute
Six Senses Yao Noi
provides peaceful 5-star accommodation in
Ko Yao
. It also showcases views of
Phang Nga Bay.
There are a variety of amenities available to guests of Six Senses Hideaway Yao Noi Resort Ko Yao, including internet, room service and a laundry service. A gym is available to those wishing to keep active while away.
Rooms at Six Senses provide a stylish space to unwind, complete with a mini bar, an iPod docking station and movies-on-demand. Each includes a private bathroom with a shower, bathrobes and a hair dryer.
Those staying at the property can wake up to breakfast each morning at
Six Senses Yao Noi
before venturing out to explore the surrounding area.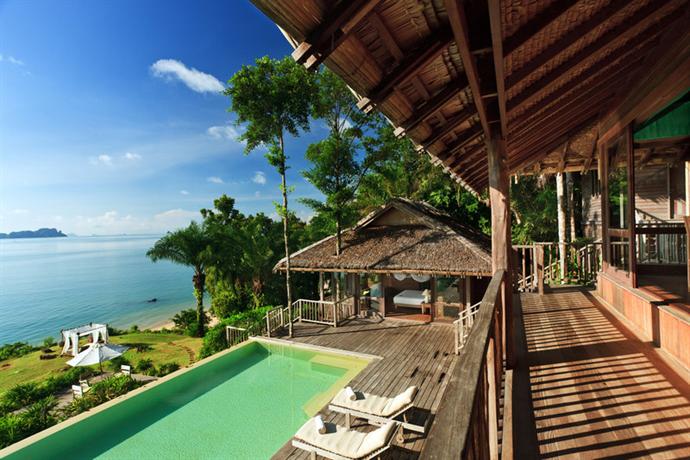 >
Phuket Hotels and Hostels
>
From Phuket Airport by car and boat: Transfers between
Phuket International Airport
and the resort will be by land and water. Guests will be met upon arrival at the airport and will be transferred to the Ao Por Grand Marina by private vehicle in approximately 20 minutes and then by speedboat to the resort in approximately 45 minutes.