Canoeing





Canoeing is one of many forms of so-called active tourism ie the tourist engaged in activities that require more or less effort, according to personal preference, as a complement to the holiday or short break to a region with a primary motivation: Landscape and Photography, Sun and Beach, Health and Wellness, Wine and Gastronomy, etc.
Down river on a canoe is to discover the river itself and dive in nature.
Before you decide to participate in adventure activities such as canoeing, you should make sure with the Activity Tourism Companies if safety equipment such as life jackets, goggles, helmets, radios are provided and if the price includes accident insurance.
This activity is popular and it is practiced in rivers from north to south of Portugal, of which stand out:
Contact for bookings: Mobile (00351)962748550
* Douro: a rich cultural and gastronomic heritage.
Porto Hotels and Hostels
* Lima: a gorgeous landscape.
Hotel Meira Hotels and Hostels
* Mondego: The longest river entirely Portuguese, which inspired Camões.
Coimbra Hotels and Hostels
Portugal North to South; a diversified range of sceneries
* Zêzere: Second longest river entirely Portuguese. Tearing the Serra da Estrela, passing through several dams to its mouth at Constancia. Very popular are the descents from the Castelo do Bode dam to the mouth, but there are others that end in Almourol Castle, on the Tagus.


Visit it's heritage and stay a few days. Click on the image

Ancient villages as Constancia, called by the Romans Pugna Tagi , struggle of the Tagus against the waters of the Zêzere River are fertile in positive emotions that contemplation, relaxation, history, potentiate. It is worth staying here for a few days and get involved in local traditions.

Tweet #TwitterStories

Buffalo National River, Arkansas, U.S.A.
Buffalo National River in northern Arkansas, about 150 miles long, includes about 95,000 acres of public land along its banks. It has been the subject of books, the subject of an article in National Geographic, and has inspired the creation of the state environmental movement.
It is much more than a continuous exposure of natural curiosities. It is, in the words of the National Park Service, "an island of time and space." It is a valley where the lifestyle and landscape of the turn of the century still exist. It is a place that refreshes the spirit.
The Buffalo National River is born at the highest point of the Ozarks, the national forest. In the area of the Ozark National Forest practitioner can expect to see caves, waterfalls, cabanas, natural sources and even a black bear.
There are points in this river that require practitioners to canoeing a skill level 4.
A smoother ride, is Arkansas 7, near the bridge of Highway 123 (or Carver), with about 10 kilometers. While not offer spectacular scenery, this is a quick rapids to level 1 and has many slopes and gravel bars. It is especially suitable for families.
Spectacular is the best word to describe the scenery along the river. For 150 miles, the Buffalo offers an unparalleled blend of clear waters, high cliffs, boulders, and gravel barriers. Away from the river, a place worth visiting is Lost Valley, between Ponca and Boxley.
Contact for reservations: Call Us! 1.800.221.5514

Avon River, Sommerset, U.K.
Tweet #TwitterStories


Somerset County is surrounded by some of the most idyllic rivers of the country, from the beautiful river Wye in Wales, to the historic River Avon, is a destination for sea, landscapes and historical sites.
The British Canoe Union 3 gives guidance along these waterways meandering while the paddler admire the surroundings.
If you are looking for rougher waters, then there are plenty of fast moving rivers too. You can start at Symonds Yat then move into rivers like the Dart and Exe. If you want you can continue with your kayak to the sea.
Regardless of your objective be beautiful or exciting scenes of crystalline waters, the British Canoe Union 3 provides you hilarious adventures.
mailto:info@bcu.org.uk

Colca River, Arequipa, Peru
One of the motivations for visiting Arequipa, or white city situated at an altitude of 2360 meters, is the Mummy Juanita, sacrificed to the sacred mountain AMPU Ampato, on top of which the Misti volcano erupted.
After 500 years of immolation by the Incas the mummy is worldwide known for its intact condition.
What today would mean an incomprehensible brutality, had once been an honor to the families involved in these rituals enclosing varied purposes. The human offerings were made in special occasions such as the participation of the emperors in wars, after the death of someone or on Inca important festivals.
These and many other vestiges of Inca culture suggest a visit to the historic cities of Peru.
In the region of Arequipa is the Colca River Gorge, one of the deepest canyon in the world, with 3180 meters. From May to October, the waters of the river Colca present the ideal level to practice canoeing and rafting.
The route that connects Arequipa to the Colca Canyon, crosses the Pampa Cañahua, a nature reserve that protects the Camel Vicunha.
Multi rating accomodation Arequipa secure booking

>

Itajai-Açu River, Santa Catarina, Brazil
Iguazu Falls are a set of 275 waterfalls forming a front 2.5 km long and up to 90 meters high.
Located near the border of Brazil and Argentina, in the middle of the rainforest, waterfalls interrupt the course of the Iguaçu River, a tributary of the Paraná.
This Atlantic Forest, is the home to the greatest biodiversity on the planet, the Vale do Itajai meets a privileged position to become one of the largest centers of ecotourism in the country.
Itajai-Acu River (base Apiúna / SC) and its tributaries are among the best rivers in Brazil for rafting.
Quick multilevel guarantee adventure and excitement for everyone. You can complement the rafting (down river in rubber boats) with rails, rapel, canyoning in the river valley.
The Iguaçu River mouth, where it is possible to know the cultural diversity of Brazil, Argentina and Paraguay in a radius of only 150 kilometers is rich in attractions that include safaris, natural beauties, culture and shopping tourism.
On the other hand, an expedition of Rio Tijucas (Base Santo Amaro da Imperatriz) provides one of the greatest adventures during two days of descending in areas totally wild.
Hotels in Florianapolis very close to Iguaçu Waterfalls secure booking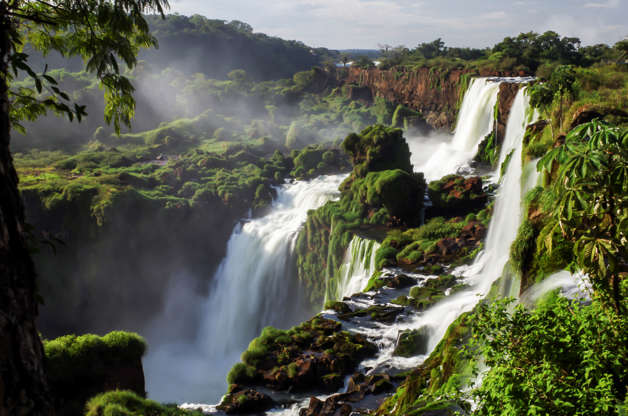 Tongariro River, New Zealand
White Water Rafting
The half-day rafting on the Tongariro River is one of the most exciting rafting adventures in New Zealand.The rapids are grade three, which makes this an ideal adventure for those already accustomed.
In the lower part of the river in calm waters, there is magic to those who paddle for the first time, especially children.
The Tongariro River is world famous for its trout fishing. At the top Dorio, reachable only by kayak or raft, life is underwater in pools of clear water. Here you can get an exceptional fishery.
Promotions
The Tongariro River Rafting is an animation company that gives all indications and provides material. Contact: 0800 10 10 24
Advised place to stay in Taupo Book it now
Book your activity by: Pfone:+64 800 101 024
Turangi Hotels and browse hotel reviews and find the guaranteed best price on hotels for all budgets


Top 7 Canadian Water Adventures
The vast and beautiful inner coastal region between Vancouver and British Columbia is like a treasure chest full of coves, islands, islets and fjords.
The diverse geography of the area, culture, climate and fauna provide a unique experience to kayak or canoe.
Make here your travel arrangements in a secure way

>Tripadvisor photo

Tweet #TwitterStories