Portugal: Cabo da Roca and Cascais



Cabo da Roca is the westernmost point of Continental Portugal, as well as continental Europe. It lies in the parish of Colares, Sintra municipality and district of Lisbon.
The site can be visited, but not to the end zone until the altitude of 140 m. The cable forms the western end of the Serra de Sintra, rushing over the Atlantic Ocean. Its geographic coordinates are N 38 º 46'51 "W 9 º 30'2".
Luís Vaz de Camões described it as the place Where the land ends and the sea begins (in The Lusiads, Canto III). A pattern with a stone tombstone mark this geographic particularity to everyone who visits this site.
Its flora is diversified and, in many cases, has unique species being the subject of several studies that extend also to the geomorphology, among others (In: Wikipedia).
Some of my friend stayed in Cascais and Estoril area, and others stayed in Colares or Sintra. A great choice of accomodation to book easily here. An example for 106 €
Adraga Surf Hostel Bed and Breakfasts


Diving in Bali, Indonesia

One of the most beautiful islands in the world, Bali in Indonesia is the most popular holiday destination for those passionate about diving.
The popularity of the waters of the island was not very publicized. Being previously a privileged place for surfers and tourists seeking a relaxing beach vacation, nowadays arrive on the island a growing number of tourists who carry bags diving.
In fact, Bali offers a rich and diverse landscape: rocks, coral gardens abound where feather stars, sea turtles, moray eels, barracudas ..
The International Travel Magazine. There, however, are still many people who do not know in depth about the uniqueness of Balinese culture. Life in Bali is always related to Tri Hita Karana or a tripartite concept that include the spiritual relationship between human and God, and their environment. The rapid growth of development in tourism has had a big impact and influences to Bali tradition and lifestyle. Interestingly, Balinese culture is still as what it was, growing along with the of globalization. It is the Balinese civilization what makes the island different from other destination.(info Tourism Bali)
Nusa Dua, Bali
The world's largest fish species was the surprise catch of the day for some Indonesian fishers in October 2013.
Indonesia's Karimunjawa National Park were fishing for anchovies and small bait fish on October 8, but they caught more than they bargained for when they discovered a juvenile whale shark tangled in their net, reports the World Conservation Society (WCS) in a statement released this week. (See pictures of a whale shark "swarm.")
Fortunately for the young whale shark—which was more than 13 feet (4 meters) long—there was a system in place to alert authorities. A Short Message Service (SMS) set up by the WCS and the national park allows people to report fishing violations and marine animal strandings to park authorities instantaneously.

>
in Volta ao Mundo Magazine
To stay one week it's not difficult to find and book a double room from 200 to 2000 Euros a week. Trust us. Click on the image
Beach, Night Life, Romance and Nature

Tweet #TwitterStories

Ocotal Beach, Costa Rica
google-site-verification: google1a579b4a3c6c0632.html Tweet #TwitterStories


If, on the one hand the tourist finds comfort and well-being in hotels and resorts in Costa Rica, with its large swimming pools, spas, breathtaking scenery, on the other hand, another major attraction, if you are a passionate about life at sea: diving.
Some resorts have trainers recognized by PADI (Professional Association of Scuba Instructors) courses that teach and certify divers.
There are several marine species that you can watch: bull sharks, stingrays, golden rays, sea turtles and dolphins.
Make here your travel plans

>
Hotel Los Suenos Hotels and Hostels

Sceneries I've seen inWorld Travel Guide

Underwater Museum in Cancun


In Mexico, Cancun Underwater Museum is an attraction for lovers of diving.
With 500 artworks, in which are included 11 new sculptures that were added earlier October 2013 by deCaires Jason Taylor, the underwater museum was founded in 2009 to help the preservation of the natural coral reefs in the region which visitor center shows the most popular replicas of Cancun inhabitants sculptures in real size.
Lobsters can make their nursery inside a Volkswagen Beetle that was designed for this purpose and placed there.
The marine life at the museum takes shape slowly, giving life the "The Silent Evolution." Already one of the most popular attractions, this underwater museum has an average of 87,000 visitors per year. So, divers will enrich their diving experience, enjoying the artistic impact and ecological museum.
Cacun is the first tourist destination in the Caribbean.
Find more about it using

>

Travel there with
Tweet #TwitterStories


Bonne Terre Mine, Missouri, U.S.A.
Bonne Terre Mine is a truly unique diving destination.
Once the world's largest lead mine and now the largest freshwater dive resort on the planet, this National Historic Site is known as the Billion Gallon Lake and features three levels with miles of dive trails, including the advanced "Bear Trails."
Jacques Cousteau explored this underwater wonder, which features calcium falls, man-carved pillars, shafts, archways and mining artifacts such as drills and ore carts.
The depth of average dives (led by guides and safety divers) ranges between 40 to 60 feet, and year-round 100-foot visibility is enhanced with half a million watts of underwater lighting.
The ultracasual Diver's Lodge offers on-site accommodation; those who prefer more in the way of ambience can stay at the 1909 Depot Bed & Breakfast in town.

Capo Caccia, Sardinia, Italy
Those interested in diving to discover and study marine, the caves in Capo Caccia near Alghero, are the answer to their desires.
The whole area is famous for its caves, of which highlights the grotto of Neptune, continuing a natural underwater environment, with hundreds of meters of tunnels and caves of karstic origin.
The most famous is the b>Nereo Cave, considered the largest underground caverns in Europe, with a longitudinal extent of over 300 meters and a height of almost 10 meters.
But you can also choose from the Grotto Falco and Punta Giglio, the Cave of the submarine or the Virgin Mary or you can opt for the deep blue of the famous Porch of Punta Semaphore.
Local guides experienced counsel provide himself with good torches and wire ariane, for greater safety in the adventure.
Contact: dive@adventurediving.it
Easy AlgheroHotelBooking

in Incredible Pictures

Galapagos Wildlife
The Galapagos Archipelago may be the world's best destination for watching the wildlife on land, as Charles Darwin saw, studied and cataloged according to the specie's behavior, but the marine fauna is unbelievely wonderful.
Family of marine lions, adults and pus, turtles indifferent to what is happening around them, and many other.
Watch the video
Best places to explore the underwater wild life
Gordon rocks With excellent visiibilidade, this site is suitable for experienced divers, because of the strong currents. Hammerhead sharks, manta rays , moray eels and turtles are among the species that can be seen
. Kicker Rock ( León Slept ) , San Cristóbal
The narrow channel between steep walls of the volcanic cone is a prime diving point.
More information
From Quito, in Equador, 1000 KM away, daily flights. One visit that will remain in your memory
Connections from any airport ensured by some air companies.

Para reservar hotel Combinedhotels também lá está presente.
Hotels in Galapagos Islands. Secure booking
Tweet #TwitterStories

Koror, Palau
Micronesia has always been seen as a major diving destinations in the world. From the big Manta Rays to the tiny shrimp almost transparent to the underwater world truly attractive life in Palau.
The best way to live the experience of an amazing diving in Palau is a trip on one of the boats of Palau.
There are travel 7 days a week for observation, photography, reportage and diving.
Click on the green link to connect with Sam's Tour Diving Center or send an e-mail to info@samstours.com
Hotel accomodation. Select and book easy

Lord Howe Island (Australia)
Lord Howe Island (Australia) - regarded as the most beautiful island in the Pacific - is the closest refuge from Sydney. It is less than two hours' flight from Sydney or Brisbane, on Australia's east coast.
It is a natural paradise, with unspoilt and golden sandy beaches which attract surfers, swimmers and divers.
The crystal lagoon is enclosed by the southest coral reef of the world. Walking along the golden sandy beach you can see tropical fish and colorful sub-tropical, turtles and other marine animals. You can dive into the most famous sites of the world and feed by hand big fishes you'll find in underwater volcanic caves.
Contact to plan your submarin discovering: tas@prodivelordhoweisland.com.au



Image copied from de A Proxima Viagem
>


Moalboal, Philippines
Situated 90 kilometers from Cebu, Moalboal is recognized as one of the most famous places for diving in the Philippines and famouse because of its white sand beaches.
There are two tourist beaches with hotels and resorts: Panagsama Beach and White Beach. White Beach is a beach a little nicer, and Panagsama Beach has more restaurants and nightlife. The nightlife is usually calm and relaxing. During the day you can explore waterfalls, caves and other beautiful sights
Contact to book your activity: Neptune Diving Adventure Moalboal & Santander, Panagsama Beach, Moalboal 6032, Filipinas, +63 32 4950643
Make secure hotel booking to Cebu or Moalboal

Hotels in Moalboal

Bodubados, Maldives Islands
The Maldives gather some of the best dive sites in the world, with stunning coral gardens and exotic marine life, forming a kaleidoscope of colors.
With good visibility underwater and pleasant temperatures all year round, Maldives has many visitors with the sole motivation of the dive.
All resorts on the island have professional dive schools with multi-lingual instructors, who teach diving certification courses for beginners and advanced.
More than 700 species of fish can be observed, such as moray, grouper, angelfish, and swimming in the open ocean, sharks, whales, dolphins, endangered breed of giant sea turtles that feed off of coral reefs.
Bodubados aitr travel arrangements
Book in advance and stay longer for less:
Hotels in Maldives


> in "the best travel

Tanjung Bungah, Malaysia
Situated next to Turtle Bay, this dive site is very popular to discover the hawksbill and green turtles. Besides the turtles, there are many other types of reef fish at this point crossing the submerged rocks.
The sea at Tanjung Tokong could get angry from time to time, however divers are rewarded with a diversity of fish, along with the diversity of marine life, including snappers, fusiliers, jacks, flatworms, nudibranch, napoleon wrasse, and also shark spontaneous.
A première vue, les grandes tours du Best Western Premier The Haven Ipoh ne font pas l'unanimité auprès des amoureux de la nature. Et pourtant, cet éco-resort de luxe utilise les énergies renouvelables à 100% et récupère entièrement l'eau de pluie. Sa piscine spectaculaire, sur quatre niveaux, a su se faire adopter de la jungle luxuriante malaysienne.
In Internaute
Featuring free wireless internet access in all areas and an outdoor pool, this comfortable hotel is an easy car trip from Ipoh.
It provides a spa and wellness centre, as well as luggage storage, a playground and a dry cleaning service.
The air conditioned rooms at BEST WESTERN PREMIER The Haven Ipoh are spacious and feature tea and coffee making facilities, a private balcony and a flat-screen TV. Each provide a DVD player and an alarm clock.
Guests of at BEST WESTERN PREMIER The Haven Ipoh can enjoy a satisfying breakfast every morning.
BEST WESTERN PREMIER The Haven Ipoh is within a 20-minute car trip of Sultan Azlan Shah Airport and Perak Stadium. The hotel's multilingual staff will make sure that every guest has a comfortable stay.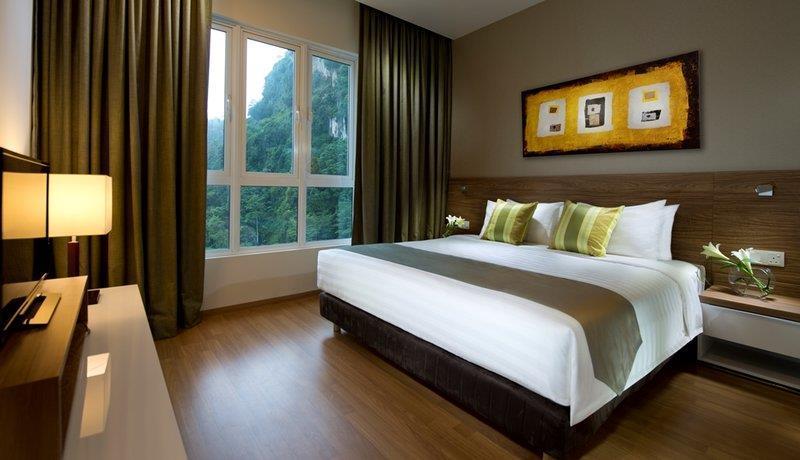 >

Hotels in Tanjung Bungah



The Oceanographic Museum of Monaco
The Oceanographic Museum of Monaco is one of the oldest aquariums in Europe.
Opened in 1930 this true Temple of the Sea, is the home of more than 6,000 specimens of the Mediterranean, among fish and invertebrates that exist in coral reef in a faithfully reconstructed environmment.
A giant aquarium is part of the oceanographic museum where sharks, hawksbill turtles, Rays and Moray guitar can be observed.

>
Book hotel to visit Monaco
Mónaco is served by the airport Nice-Côte d'Azur, south of France, 12 KM away.

A great choice of hotels to stay during your visit to this romantic destination.

Many other propositions to spend a few days or even weeks. Check other hotels


Tobago
The reefs of Tobago are prolific with marine life thanks to the intersection of the Atlantic Ocean and Caribbean Sea currents.
The Venezuelan Orinoco River waters invade the island, leaving a rich load of plankton and micro-organisms, which are great nutrients for Tobago waters.
It is the only effect of this "washing machine" that encourages large marine animals to venture close Tobago.
It is not uncommon to see manta rays, whale sharks, hammerheads and giant manta rays-Atlantic throughout the year.