Pyramids Golf & Country Club Soleimania, Cairo, Egypt


Tweet #TwitterStories



Pyramids Golf & Country Club Soleimania
Address: Alex Cairo Desert Road, Giza, Cairo
Tel: 2049 600 953
A true oasis with no less than 34 huge artificial lakes and magnificent landscaping, the Pyramids Golf and Country Club Soleimania lies off the Cairo Alexandria Desert Road and is part of a large development.
Home to several different golf courses and 99 holes in total, a round of golf here suits all abilities, with more challenging holes available for the more expert players.
Close to the Pyramids of Giza and just a 30-minute drive from Cairo Airport, the facilities at this top golf course are superb and include a huge driving range, a large clubhouse with several restaurants and even a swimming pool.



>
by touregypt.net
Siwa Airport IATA Code: SEW Siwa Airport ICAO Code: HE24
Latitude : 29.3455 Longitude : 25.5067
City : Siwa Country : Egypt
Côtoyant le site de l'oasis de Siwa, en Egypte, l'Adrère Amellal opte pour un luxe simple et écologique.
Règle numéro 1 : pas d'électricité. Les lanternes et les bougies en cire d'abeille suffisent.
Règle numéro 2 : pas de climatisation. Seule la brise pénétrant dans les chambres ouvertes rafraîchit.
~ Règle numéro 3 : aucun téléphone autorisé en dehors de son logement. Rien de mieux pour apprécier le calme du désert.
In: Internaute
Adrere Amellal: Desert Ecolodge provides 5-star accommodation in Siwa. It is also a short car trip from Graeco-Roman Tombs and Fatnas Island.
Adrere Amellal: Desert Ecolodge provides comfortable rooms, furnished to fit the requirements of any traveller.
Adrere Amellal Ecolodge Siwa is a convenient place to explore Siwa Oasis and Mountain of the Dead, as well as everything the local area has to offer. Dakrur Mountain is within a short drive from the hotel.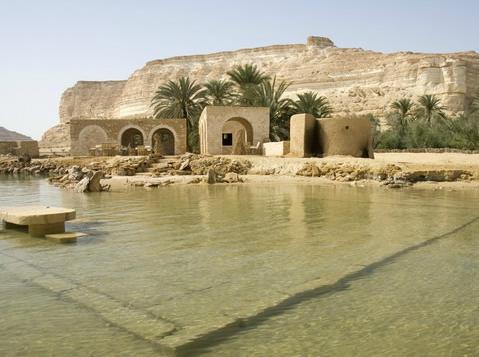 >
Adrere Amellal Desert Ecolodge, Siwa, Egypt

Curiosity
At the time of serving the tea should always let some of the drink overflow to the saucer, because it is considered tradition and a sign of good etiquette in this country. On the other hand, facing the person in the eyes while eating is considered rude and a sign of bad education.

e>


google-site-verification: googleac69fed623e9c4d7.html