Constancia Festivities
>
This year the Festivities of Constância and
2019 Our Lady of Boa Viagem Pilgrimage
will take place on April 20, 21, 22.
Beyond the National Craft Show and the Show of Sweet Flavors that will integrate the flowery streets, a vast program of entertainment, the XXXI Easter Athletic Grand Prix , the 11th Hicking, a Mega Class of Zumba, the typical restaurants, several exhibitions, the arrival of the boats to Constância and a piromusical spectacle.
High point of the festivities will be the religious ceremonies that take place on the day of the Council, Easter Monday (April 22), of which stand out the Solemn Mass, the Procession in honor of Our Lady of the Good Voyage and the Blessings of the Boats in the Tejo and Zêzere rivers and the vehicles in the Alexandre Herculano Square.
>
Image property of CM-Constância
You should not loose the oportunity of tasting the conventual cake "Queijinho do Céu" in the "O Café da Praça" close to the Pilory. Down is the image showing the egg sweet protected by almond and sugar.

by Luis Gonçalves>

Festivity of Saint John the Evangelist
December 2016 from 27th ton the 30th


>
Tradition with ancestral roots that fits within the secular celebrations of the winter solstice and which continue during these days in the village of Constantim. a parish from Miranda do Douro.
The main attraction are the Begging peddler around the village, accompanied by the Pauliteiros and the main "figures": the Carocho and the Old. "
Die de ls Cepos - On the eve of the festival, the great bonfire will gather around it the people of the village, tasting the "invitation"; dancing or just talking, attending the dances of the pauliteiros, who are not dressed in the traditional way but wearing the usual day-by-day clothes.
And at night, the party includes popular dancing, with more food and drinks among the people of the village. The Carocho - whose identity must remain secret, because it has always been this way and always will have to be - makes its appearance in the course of the dancer, dressing rigorously and committing his usual outrages and disrespect.
And it continues the next day. Much fun, food and culture.
To live the event in depth, you should be familiarizes with the local customs. Spend here some days. Click on the image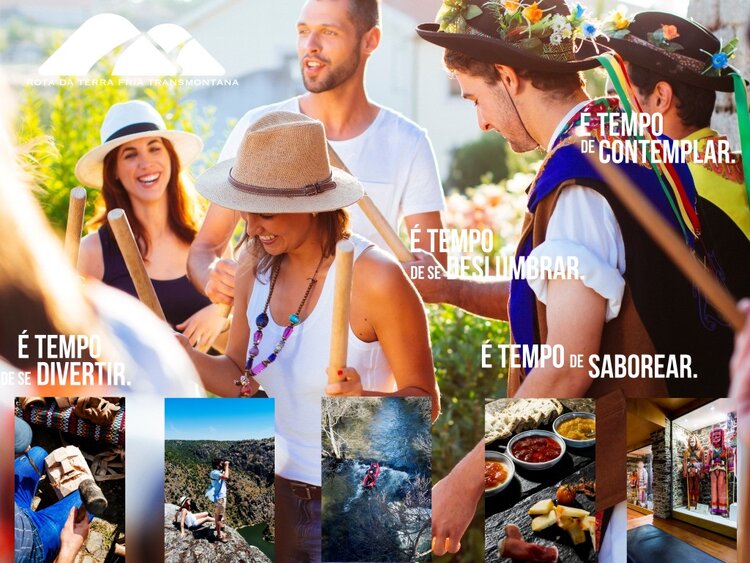 Sanfins do Douro Pilgrimage
Fesivity in Honor of Our Lady of Mercy
Second week-end of August
The Pilgrimage of Sanfins do Douro It is famous, known for its strong religious character which with a strong belief venerates the Lady of Mercy, patent throughout the year sanctuary.
It is then transported to the parish church in procession.
The huge and heavy andor which carries the patron saint is auctioned among the group of "young" and the group the "old" people.
The winner group will have the privilege of carrying the andor on the Gala procession to the Lady of Pity along the village streets.
The results of this auction are always large amounts that accrue to the sanctuary. This is festivity that lasts five days with lots of music and revelry beautiful pyrotechnical spectacles.
GPS: 41.277548453048894 -7.458858489990234

Fair of Santa Iria
>
A tradition of Tomar, yearly renovated
Image published by the newspaper "Jornal Cidade de Tomar"
... it was through a Royal Charter of Philip III that the Fair was created on October 3, 1626, associated with the cult of the patron of Tomar.
Legend says that, many centuries ago, a beautiful girl named Iria left the young Britaldo lost in love, but she had already decided to consecrate her life to God and she explained it to her. However, in the Convent the friar also felt in love with her, but the love was not corresponded by her. The friar prepared a drink that made her look pregnant. Britaldo, thinking , himself deceived, ordered her to be killed, an act of which his servant took charge, firing her body into the river Nabão.

Ourémalso maintains the same tradition, at the same time.
May we suggest a visit to parish near Tomar Sabacheira, with a vast religious, historical and scenic heritage in the countryside:
* Chapel of Nossa Senhora da Piedade, in the place of Serra do Meio, * Chapel of Our Lady of Fatima, in Furadouro, * Chapel of Nossa Senhora dos Remédios, in Vale Meão, * Chapel of Santa Marta, in Chão de Maçãs, * Chapel of St. Anthony, in the place of Monchite, * Caves of the Cacinheira, * Mother Church of Our Lady of Conception, in Sabacheira, * Roman Bridge in Sabacheira, * Ruins of windmills and water, * Railroad Tunnel of Chão de Maçãs


>

This is a way of transmitting culture and traditions in a perspective of exchange cultural tourism. If you want to accommodate other people, join here